De Doelen, Rotterdam June 2017 - The North Sea Big Band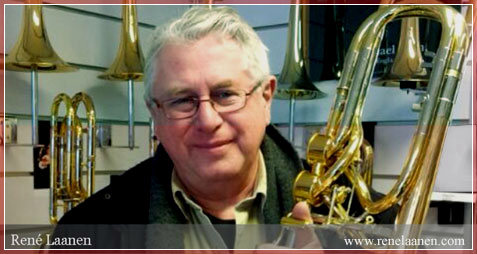 René Laanen's new trombone : The Michael Rath R9 Bass Trombone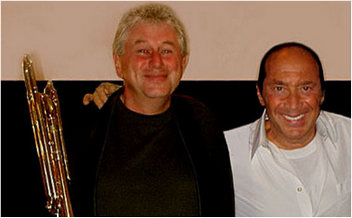 René played with the Paul Anka Band in Spain, Poland, Hungary, Finland & Belgium (2008)
Anka Brings Charisma, Elegance to Budapest (article from the Hungarian press) August 5, 2008
With you - between you - for you could have been the motto for Anka's concert in Budapest.
Several thousand people clapped their hands as Anka sang and walked among the rows.

He did not bring a flashy stage set, but he did come with an ensemble of exceptionally talented musicians who contributed to an outstanding show without any need for special props.
Anka gave his several thousand fans in the arena a fantastic two hours. Some sang along for the entire performance, and many couples danced. Anka, who has written or recorded almost a thousand songs over his career, and who knows, perhaps better than anybody, what makes a hit a hit, does not disappoint. Though most of the songs in the performance were covers from his album Rock Swings, everyone came away satisfied by numbers as varied as Put Your Hand on My Shoulder, My Way and Wonderwall. When Anka sang Jump!, a number off Rock Swings, a member of the audience produced improvised leaps that surprised even Anka.
He paid tribute to friends gone, such as Frank Sinatra and Sammy Davis Jr., with projections and "duets".
Anka moved around more in the arena than any other performer ever has, with perhaps the exception of the magician David Copperfield. His affinity for the fans - even those outside of the VIP section - was also clear.
The performance earned Anka a long standing ovation. In turn, he rewarded his fans with four encores.
At the end of the show, a party right out of the 1960s ensued in front of the stage as the security staff - who must have anticipated Anka's fans would all be pensioners - fumed. They assumed wrongly. And thankfully so.


\

About The Trombone Page Of The World
Based in The Netherlands, the largest content provider of trombone biographies, news, events, releases, profiles and industry links, The Trombone Page Of The World provides a steady supply of information to its ever-growing database on a bi-monthly basis. With over 35,000 visitors monthly, trombonists worldwide can access current information and more than 3000 biographies 24 hours a day.

R.I.P. JOS L. KNAEPEN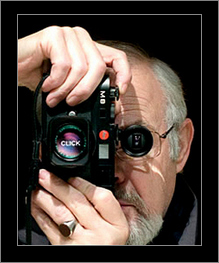 Jos L. Knaepen [http://www.jazzmasters.nl/josknaepen] site made by René Laanen
Belgian born, Jos L. Knaepen, more commonly referred to as "The Jazzman," became interested in jazz at the age of seventeen, after purchasing his first LPs of Django Reinhart and Sidney Bechet in 1961. By the time he was 18, he was a regular attendee at the infamous Comblain La Tour where many jazz giants performed during their European tours. It was also during this period that his interest in photography began.

Not having the money to purchase sophisticated photo equipment, it took several years of dedicated saving to be able to call himself a serious photographer. His professional photographic career began in the early seventies

Jos' photographic work continued during the early 1980s and his award-winning action photography was exhibited regularly throughout Belgium. By 1985, his professional photography career took a hiatus until 1990 when he began again, this time limiting his photography strictly to jazz, one of the great loves of his life.



René's Dutch Jazz site
[
www.jazzmasters.nl
] has more than 21.000 visitors each Month!